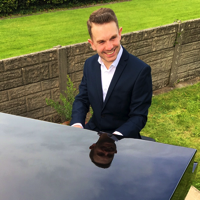 Welcome to the Audio Page of Preston professional musician Craig Smith. Below, you'll find mp3 demos of Craig's various kinds of performance work, including live solo piano samples of contemporary, classical and swing piano music for weddings etc; folk, rock, soul and funk band work relevant to his work as a session musician; and his work within an acoustic piano/vocal duo playing songs in a style similar to the BBC Radio 1 Live Lounge CDs. There are a few video demos available on YouTube too, and links to these can be found on our Facebook page.
Forthcoming Gigs See the Gigs Guide for a list of Craig's forthcoming public gigs.
Performing with Simply70s: Ultmate Classic Rock
Craig is the musical supervisor for touring production Simply70s: Ultimate Classic Rock, from which some 2015 recordings can be heard below. Craig performed backing vocals and all keyboards on these tracks:
Popular Requests
The most popular requests at Craig's 2016 weddings were All of Me, Wings and A Thousand Years. Hear them below.
Easy Listening excerpts
Craig performs as a solo wedding pianist for wedding ceremonies, wedding breakfasts and cocktail receptions at North West wedding venues throughout the year. He plays various styles from modern current pop chart hits, to swing and jazz, and romantic classical music. Most enquiries are for 'easy listening', 'lounge piano' or just music that will create a classy atmosphere.
Contemporary classical pieces like those listed below are now becoming the most popular wedding breakfast and ceremony piano music with Craig's clients and their guests, mainly due to the style's popularity on TV and films at the moment. Below are excerpts of pieces from a recording of one of Craig's live performances, which often form a part of his easy listening sets. The songs are 'I Giorni' by Einaudi, 'Maybe' by Yiruma, 'Nuvole Bianche', also by Einaudi, and on of Craig's own compositions 'Raymond's Song'.
Craig plays Einaudi wedding piano music and Twilight wedding piano music at Lancashire wedding hotels and lancashire wedding venues. Einaudi is relaxing piano music for weddings.
Jazz / Swing excerpts
Craig regularly performs jazz and swing sets at wedding receptions, birthdays and similar functions. Below are three such excerpts, again recorded during a live performance, inlcuding 'Wonderful World, 'Misty' and 'The Lady is a Tramp'.
Craig plays wedding piano Frank Sinatra wedding songs and Rat Pack wedding swing music on piano for wedding breakfasts and cocktail reception entertainment on piano.
Classical excerpts
Craig is available for hire to play solo piano at wedding ceremonies, and classical music is most popular during ceremonies. Below is a playlist containing excerpts of Craig's performances of pieces that form part of his classical repertoire, pieces by Beethoven, Chopin and Debussy.
Performing with 2❤Close acoustic 'Live Lounge' duo
Kate and Craig also perform together in 2❤Close, an acoustic duo available for public performances in bars and restaurants, as well as for private bookings such as weddings. The duo specialise in 'Live Lounge' style stripped back acoustic cover versions of favourites like Mr Brightside, More Than Words, Next to Me, Dock of the Bay and Handbags and Gladrags, some of which are on the demo below. For funky versions of more modern tunes, like Seven Nation Army and Disclosure's White Noise, subscribe to their YouTube channel.
Performing with Jessicas Ghost
Jessicas Ghost are a Merseyside 6 piece folk/rock outfit (with a little bit of pop and soul thrown in!), who've been pleasing audiences since 2005. This is the sampler for their latest studio album, Losing Track of Time, available now on iTunes, Amazon and at JessicasGhost.co.uk. On the album, Craig played all keys (piano, EP, Hammond, synths etc) and percussion, and worked on drum programming on 10 Years.
Performing with 110thStreet soul band
Until they disbanded in 2014, 110thStreet were one of the country's top instrumental funk covers bands, also available for more mainstream funk/soul gigs. These are some of the original demos, from 2008.
Composition & Arranging
Craig composes original compositions for special events, and is available for commission. He also produces arrangements of pieces and songs, usually for instruments on which they are not usually performed. This enables clients to have their favourite music performed for them by the musicians available to them in keeping with their budget. Below are links containing midi demos* of a couple of Craig's compositions and an arrangement of they type often requested for weddings.
* To protect Craig's rights, the actual audio files of these original compositions are not made available here, to prevent them simply being downloaded. We will upload the actual recordings to Soundcloud soon.